Online Experience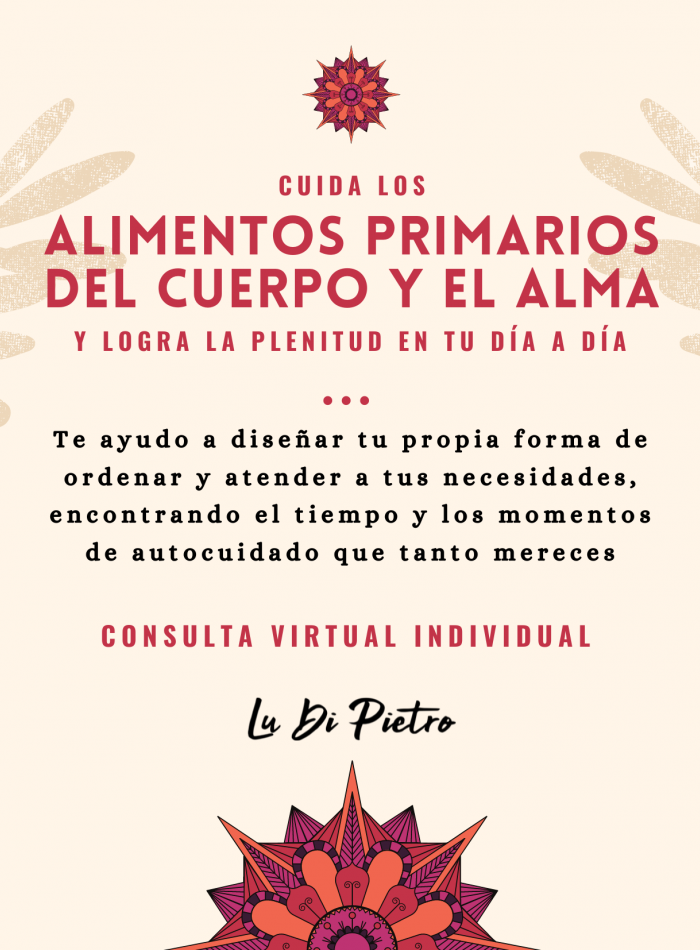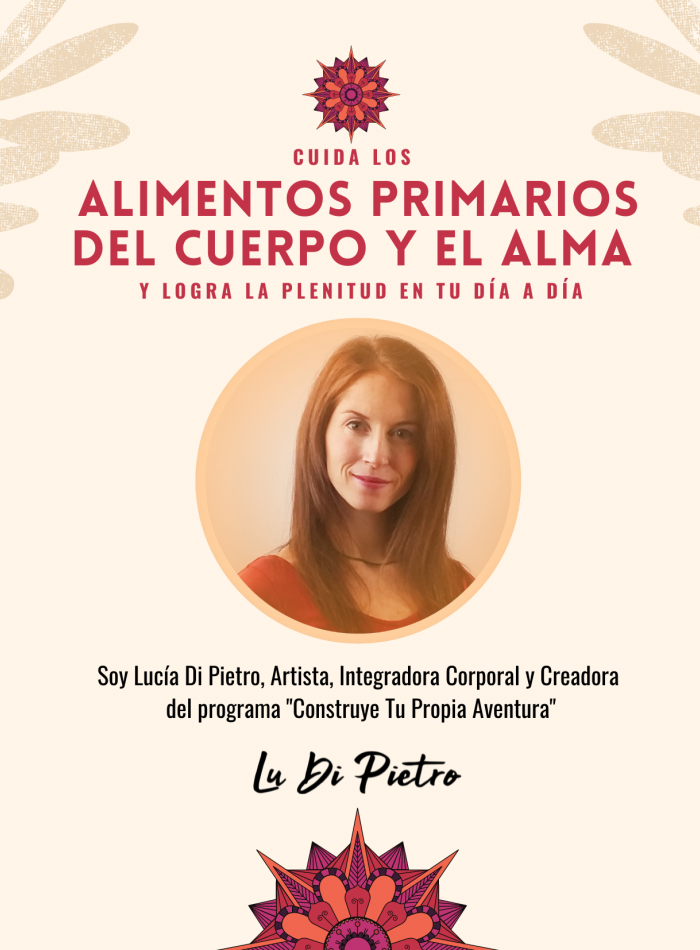 Cuida los alimentos primarios del cuerpo y el alma
This is an Online Experience

Offered in Spanish
What will we do?
Esta es una propuesta de BIENESTAR INTEGRAL que aborda tus necesidades particulares actuales y trabaja sobre la relación que tienes con tus "alimentos primarios del cuerpo y el alma" para obtener MEJORAS PROGRESIVAS y VISIBLES en tu día a día.
¿Llevas tus ideales de "vida sana" a la práctica concreta?
¿Éres constante a la hora de ponerte metas sobre hábitos saludables?
¿Pensaste alguna vez, como podría mejorar tu vida, si cuidas y prestas atención a aspectos simples pero esenciales, que son la base para sentirte plen@?
Puedo asegurarte que el impacto positivo que tiene el hecho de cuidar tus alimentos primarios en el resto de tu vida es notable.
Los alimentos primarios son: aire, agua, sueño, ingesta y energía amorosa.
A su vez, cada uno de ellos se relaciona con:
1) Aire/respirar - Tomar y dejar ir; contacto consciente con la vida.
2) Agua/fluir - Patrones limitantes, resistencias y desapego.
3) Sueño/soltar y confiar - Entrega, aprendizaje constante y humildad.
4) Ingesta/estima y autovaloración - Sentidos - Expectativas sociales - Decisiones desde el amor o el miedo.
5) Energía amorosa/Vínculos afectivos sanos - Gestión emocional, intercomunicaciones, permiso para disfrutar.
A estos alimentos les sumamos 3 prácticas clave:
1) Silencio
2) Narrativa personal
3) Movimiento
Y trabajamos en base a 3 conceptos fundamentales:
1) Proceso
2) Ciclicidad
3) Presente
Con estos pilares, te ayudaré a diseñar tu propia forma de ordenar y atender a tus necesidades, encontrando el tiempo y los momentos de autocuidado que tanto mereces, y vas a DISFRUTAR mucho de hacerlo.
Recuerda: somos naturaleza. Tenemos un cuerpo que es nuestro hogar, nuestra tierra personal, con sus propios ritmos biológicos y tiempos orgánicos, y que es muy importante cuidarlo, pero en el vértigo del día a día, solemos olvidarlo y lo dejamos de escuchar.
¿Quieres cuidar de forma consciente y amorosa tu territorio personal, tu propio templo?
No tienes que hacerlo solo, yo puedo ayudarte. Trabajemos junt@s, en sesiones individuales virtuales, para construir un MAPA PERSONALIZADO y CONSCIENTE, que te oriente a delinear hábitos flexibles y rituales creativos que te ayuden a sostener el proceso de construcción de tu propio bienestar.
Si te interesa saber más, no dudes en escribirme para que te cuente en detalle qué es lo que haremos según tus requerimientos actuales. Estoy segura de que esta propuesta puede aportarle mucho valor a tu vida.
Soy Lucía Di Pietro, Artista, Integradora Corporal y Creadora del programa "Construye Tu Propia Aventura", en el cual te acompaño a ser el/la protagonista de tu historia, siendo leal a tu filosofía, respetando tus principios y alentándote a superarte desde la escucha atenta, el ofrecimiento de recursos prácticos y los años de experiencia que me avalan trabajando en estos temas.
What do I have to bring?
What else should I know?